10 Takeaways from Le Tour's Stage 5 Over the Cobbles
Race Breakdown
Spencer Martin of Beyond the Peloton breaks down what really happened in the chaotic stage 5 of the 2022 Tour de France from Lille to Arenberg. The brutal pave, better known as the protagonist in Paris-Roubaix, again played the leading role in the action.
– This article is published in cooperation with the Beyond the Peloton newsletter. Sign up here for full access. –
Simon Clarke shocked the favorites, and potentially even himself, by winning the much-anticipated 5th stage of the Tour de France that traversed the historic, but brutal, cobblestone roads of Northern France with a perfectly-timed bike throw ahead of fellow breakaway companions Taco van der Hoorn and Edvald Boasson Hagen.
In the furiously chasing peloton behind, Tadej Pogačar began to lay the foundation for his third-consecutive overall win when he powered away with Jasper Stuyven. At times, the duo appeared certain of mowing down the breakaway and riding to the stage win, but their momentum stalled inside the final 10 kilometers and Pogačar would have to settle for taking 13-seconds on the other GC favorites. The gap would have been far larger but for Wout van Aert, who, despite crashing earlier in the stage, led Jonas Vingegaard in an epic pursuit of his GC rivals after his Jumbo teammate suffered an ill-timed mechanical.
While these (in)famous roads are normally reserved for the one-day Spring Classic Paris-Roubaix, their inclusion in the Tour de France, something that has become more common in the last decade, always serves up a chaotic day that can oftentimes see more GC action than even the hardest mountain stages, with sure-fire contenders falling out of contention after suffering from the flats, crashes and general misfortune that awaits riders along the course. Today's stage proved to be no exception when one of the heavy pre-race favorites, Primoz Roglic, crashed out due to a runaway hay bale making its way onto the road.  He might have impressively limited his losses to just 2'08 on Pogačar, but he suffered a separated shoulder, which will make any potential comeback in the overall classification nearly impossible.
Stage Top 3:
Simon Clarke +0
Taco van der Hoorn +0
Edvald Boasson Hagen +2
GC Stage Results:
Wout van Aert +0
Neilson Powless +13
Edvald Boasson Hagen +14
Tadej Pogačar +19
Yves Lampaert +25
Filtered GC Contender Stage Results:
Tadej Pogačar +0
Jonas Vingegaard +13
Geraint Thomas +13
Adam Yates +13
Aleksandr Vlasov +13
Primož Roglič +2'08
Ben O'Connor +3'21
GC Contender Overall Standings:
Tadej Pogačar +0
Jonas Vingegaard +21
Adam Yates +29
Geraint Thomas +31
Aleksandr Vlasov +37
Primož Roglič +2'17
Ben O'Connor +4'15
Stage Notebook:
145.4km: Shortly after the stage start, Magnus Cort once again rolls off the front with a handful of other riders. When they have 16-seconds, Simon Clarke capitalizes on a lull in the pace and attacks to bridge up. He is followed by a group led by Neilson Powless, which will give EF two riders in the lead group.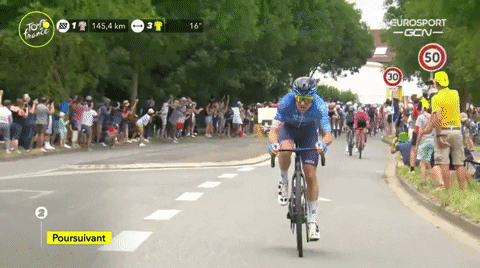 91.5km: The break builds up a substantial gap, which sits at 3'38 with under 100km to go, and will be difficult to pull back over such a short stage with a cobbled surface. Wout van Aert is chasing back onto the lead GC group after an uncharacteristic crash and just narrowly avoids running into the back of a DSM team car.
73.4km: Van Aert, who is understandably rattled, doesn't make it back to the front before the peloton hits the first cobblestone section. Tadej Pogacar is at the front, and the fact that he is isolated without teammates is nullified due to him enlisting help from EF's Alberto Bettiol, who, for reasons unknown, is chasing down his own teammates.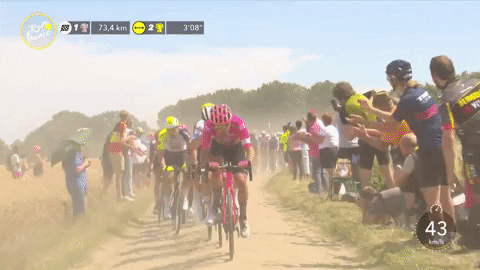 38.1km: Mathieu van der Poel, the heavy favorite for the stage win, is dropped from the peloton, which confirms that he simply doesn't have his top form this Tour and explains his absence over the first three road stages.
36.1km: Jonas Vingegaard has a mechanical and in a moment of panic, changes bikes with his much, much taller teammate. Since he can't reach the pedal while in the saddle, this doesn't work, he subsequently gets a bike from Steven Kruijswijk before giving up entirely and just taking a bike from the team car.
30.4km: Jumbo recovers surprisingly well from this near-disaster and calls Van Aert back from the lead GC group. Once Van Aert gets back to his team, he looks like he has shaken off the crash and is ready to get to worth decimating the 42-second gap to the Pogacar group.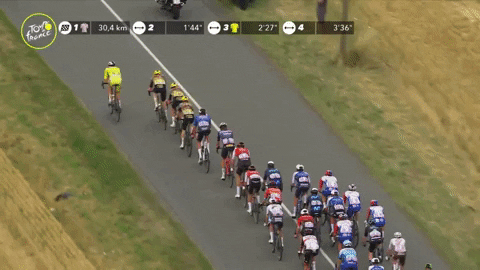 28.7km: Primoz Roglic crashes after hitting an errant haybale that was pulled into the road by a motto. He gets some 'help' from a long gel handoff from the team car, but he has missed the 'Wout Train' and the team will be forced to split up the squad to divide resources between both his and Jonas' chase, which will decrease the chances of closing the gap to Pogacar.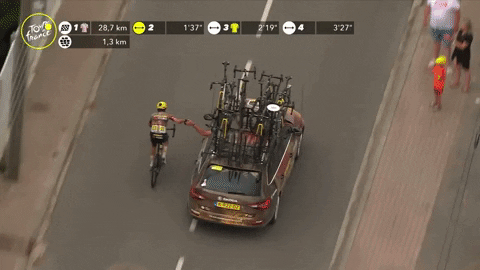 27.4km: Realizing he has a chance to put serious time into the Jumbo duo, Pogacar hits the fronts on the cobblestones up ahead. He is also getting significant help from Vlasov's Bora team.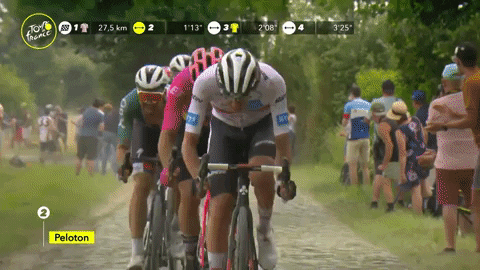 17.2km: Pogacar is the only rider able to follow a Jasper Stuyven acceleration, and not content to follow, he immediately goes to the front to increase the pace. Seeing a lightweight GC contender overtake a massive classics specialist to increase the pace on the cobblestones is truly stunning. The duo look poised to close down the 47-second gap to the leaders.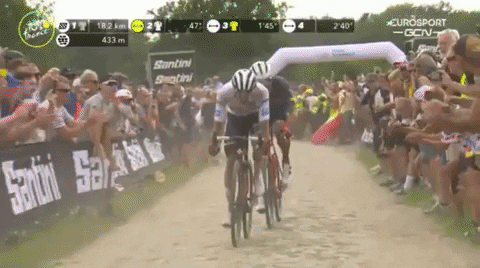 10.6km: While Stuyven and Pogacar initially look like could bridge the gap, it holds steady over the next few kilometers and even starts to go back out in the breakaway's favor, mainly due to smooth rotating between the riders and Magnus Cort being willing to throw away his chances of a stage win to attempt to ride his teammate Powless into the race lead, as well as some help from the TV moto (notice that every view we see of them is from the front).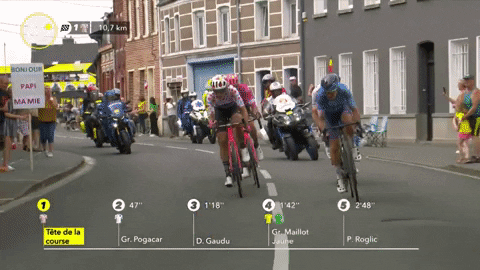 2km: Van Aert and his Jumbo teammates eventually close down the gap to the Vlasov/Thomas GC group and the Yellow Jersey stays on the front to limit their losses to Pogacar. They get the gap down to 30-seconds with 2km to go, but he is getting no help from Ineos and Bora, who bizarrely don't seem concerned about Pogacar riding away.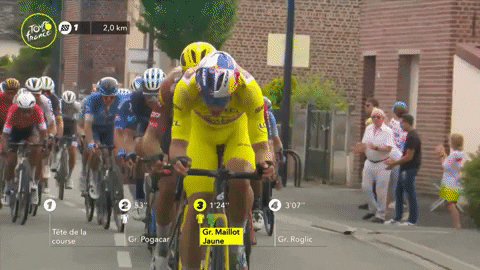 400m: Up front, Powless launches early in an attempt to clip away for a solo win, but Edvald Boasson Hagen accelerates to close it down and seems poised to come by for the stage win and race lead.
Finish: However, Boasson Hagen comes completely unglued and is passed by a surging Taco van der Hoorn, followed closely by Simon Clarke. Van der Hoorn appears to have the stage win, but Clarke comes from behind and executes a perfect bike throw to win the stage by a few millimeters.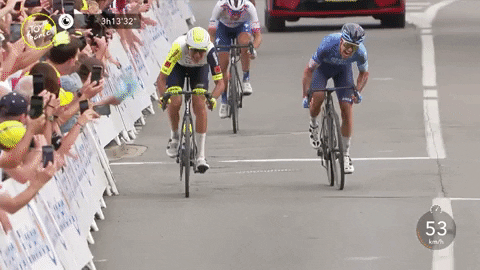 Pogacar and Stuyven come in less than a minute later only to find that Vingegaard's Jumbo team has impressively closed the gap to 13-seconds, meaning they took 17-seconds in just the final two kilometers.
Ten Takeaways:
1) Simon Clarke played the odds perfectly
The combination of the short stage and road surface that doesn't favor drafting and large bunches meant the breakaway always had a chance, and Clarke was extremely savvy to recognize this and jump into the early breakaway during a lull in pace.
I'm also sure it didn't escape his attention that the TV motos love to get the head-on shot of riders riding over the cobblestones and the easiest way to get a draft from them is to be off the front.
And when Powless attacked in the final kilometer, he calmly sat back and let Boasson Hagen close down the move before letting Van der Hoorn lead him out in the sprint.
In the end, all of the above, combined with an excellent bike throw, netted him the biggest win of his career at 35 years old. This is incredibly impressive considering he was out of a contract at the beginning of the year and was only a late pickup for Israel.
2) Tadej Pogacar proved that he is perhaps the most versatile and aggressive GC contender in the modern era…but the return of his move wasn't worth the investment
The sight of Pogacar drilling it over the cobblestones while dropping everyone but Jasper Stuyven was one of the most impressive things I've ever seen from a GC contender.
But, while his move was an impressive show of force, I have to wonder if his time gain, which ended up being just 13-seconds by the end, is enough to merit the massive amount of energy he spent making the move, especially with a summit finish looming on Friday.
3) Pogacar is the best rider in this race, but his UAE team is severely lacking
Despite making multiple big signings in the off-season, Pogacar's UAE team has failed to offer key support for Pogacar so far in this race. This was never clearer than today when he was isolated almost as soon as he hit the cobblestones and only got significant help from EF's Alberto Bettiol and Trek's Jasper Stuyven.
This team weakness hasn't cost him yet, but it does show a potential weak point that a rival could exploit.
Also, while he hasn't lost time due to his team, he is giving up potential gains. For example, if he would have had a stronger team today, he possibly could have delivered a massive blow to his GC rivals just like Vincenzo Nibali did back in 2014 due to help from his teammates.
4) The strongest team of the race so far, Jumbo-Visma, had a decidedly mixed bag of a day
The headline of Jumbo's day isn't great: Jonas Vinegaard and Primoz Roglic lost time to Pogacar while Roglic suffered a separated shoulder in a freak crash.
But, if we look deeper, it could have been far worse. After the dust settled, Vinegaard only surrendered 13-seconds despite suffering a poorly-timed mechanical and was saved from disaster due to the strength of his team.
Also, Roglic, despite the injury, only lost 2'08 to Pogacar and, at least so far, appears able to stay in the race and ride as support to Vingegaard.
5) Wout van Aert saved Jonas Vingegaard's Tour de France GC hopes
His solo win on stage 4 might have been one of the more impressive wins I've seen at the Tour, but Van Aert's ability to recover from a crash to pull his team back into GC contention and save his race lead might just be the ride of the day.
Without him, his teammate Jonas Vingegaard would have fallen too far behind Pogacar and lost a realistic chance of winning the overall.
6) Primoz Roglic's GC campaign is likely over
For the second year in a row, Roglic suffers an early crash that leaves him banged up before we even hit the mountains.
While it is tempting to think he can ride through the injury and stay in the GC picture, his separated shoulder will make it incredibly difficult for him to avoid losing major time on Friday's torque-heavy steep summit finish and we will almost certainly see him tumble out of GC contention.
The only potential silver lining is that if he can stay in the race, the team will be able to consolidate behind Vingegaard, but, unlike last year, they could have Roglic working as a super-domestique.
7) Bora and Ineos' tactics show they aren't riding to beat Pogacar
While Ineos and Bora were eager to drive the pace in the lead GC group while Vingegaard and Jumbo were trying to chase back on, they got off the front and refused to pull through as soon as Jumbo made contact, which helped Pogacar stay off the front and take him from their GC leaders Aleksandr Vlasov and Geraint Thomas.
This showed that both of these riders are already racing to finish on the podium and have mentally ceded the win to Pogacar, since if they were really worried about beating the two-time champion, they would have been more concerned about losing time to him before they even hit the mountains.
8) The anti-Jumbo tactic is being used far this early in the race
On one hand, this tactic of lumping all the responsibility onto Jumbo is savvy, but, on the other, they are deploying it far too early in the Tour.
With so much left to race, Thomas and Vlasov could regret gifting time to Pogacar and focusing too much on the podium if Pogacar suffers or has a mechanical issue later in the race and is able to hold his lead due to today's slight gap.
9) Mathieu van der Poel is a shadow of his 2021 Tour self
I wondered yesterday why Van der Poel has spent so much time hanging at the back so far at this Tour. This stood in stark contrast to 2021 when he was at the front dazzling during the first week.
And today we got our answer; he simply doesn't have the form.
It is shocking to see, but remember that he just finished his first full grand tour in May at the Giro d'Italia and missed key training and racing milestones this Spring due to a back injury.
10) EF's tactical disaster hints at issues inside the team
On one hand, EF nearly pulled off a massive coup by getting both Cort and Powless into the early move. This set them up to both win the stage and get Powless into the race lead, which would have been a massive moment for the team and given them a much-needed morale boost and precious UCI points to stave off relegation.
While some may have taken issue with the decision to have Cort, the best chance for a stage win, drive the pace for Powless, I still think this was the right decision since the Yellow jersey is both very important to a US audience and easier to control than winning out of a five rider group.
But, outside of missing out on the stage win, they blew a chance at the Yellow jersey plans partly due to their own teammate, Bettiol, working with Pogacar to pull back their gap when the GC group hit the cobblestones. The reasons for this are completely unknown and the logic, outside of trying to get a contract with UAE, is baffling. This speaks to serious cohesion issues inside the team and could even potentially tell us some of EF's riders are already on the lookout for 2023 contracts if the American team isn't able to stay in the WorldTour.
– This article is published in cooperation with the Beyond the Peloton newsletter. Sign up here for full access. –